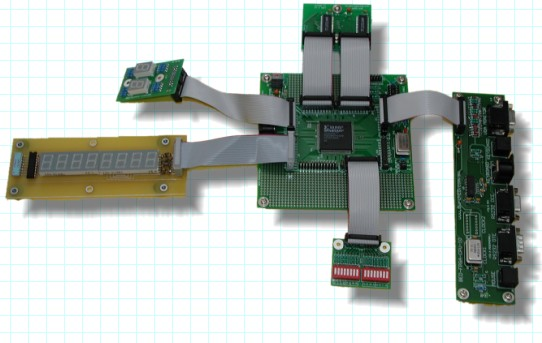 The BurchEd FPGA Board
This is a really cool board to play with and use. It has a Xilinx SPARTAN-II FPGA in the center of it and a series of 20 pin connectors around the FPGA. It was designed and produced by Tony Burch over at Burch Electronic Design. In the picture above I've attached five "plug-on" modules, in clockwise order:
128K x 16 RAM module (takes two slots)
CPU-IO (adds serial, mouse, keyboard, and VGA interfaces)
SWITCH module (16 dip swiches)
LED–8 (My own 8 digit LED display module)
BEDLED two digit LED module (RED digits)
The FPGA itself has 200K "marketing" gate equivalents but frankly it is pretty spacious. See my FPGA journey pages for stuff that I've done with this board.
Schematics for BurchEd B5-Spartan2+ board
This is the schematic of the main board provided by Tony. I have a couple of versions of this board, on one the clock can be set through configuration and on the other it is manually set.
January 2013
So as I reconstruct my notebook one of the things I've been doing has been to update the links, Tony Burch's link to BurchEd appears to be dead/non-functional. So I suspect Tony has moved on to other things.